Printing document pages 2-up on both sides of a piece of paper
July 7, 2005

12:06 PM

Subscribe
Printing a "booklet" from PDF on the cheap: I'm looking for software that will help me do 2-up on both sides of an 8 1/2 x 11 sheet, but I'm open to any suggestions.
So, suppose I were buying a book that came as a PDF (say,
this
). I'd to want to print out and perhaps bind some of it. Even a mere $.06 per side of 8x11.5(the apparent going rate at the copy shop) gets expensive fast. I'd like to be able to to get to half that cost. 2-up on both sides of a sheet is the obvious solution. And in general, I'd like to be able to print documents as "booklets"
However, how to do this in a way that will be easily (let alone practically) bindable is not immediately clear to me. Ideally, I'd like some software to do the work of figuring out print order in such a way that I could stack/fold the sheets and get a booklet, like so: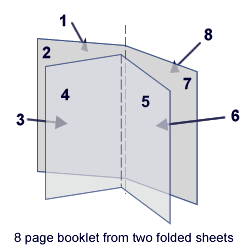 Or I guess I could take something which would print pages in any other arrangement such that I could cut down the middle, and have them circular bound or throw them in a binder or something. Maybe like this: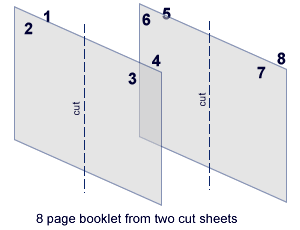 There used to exist something like this for the Mac -- Print Chef -- but
the creator's website
looks like it hasn't been updated in two years and is fairly broken.
I own a Mac, and would therefore prefer a Mac-based solution, but I have access to PCs at work, and would gofor a free or very cheap PC-based solution.
I'm also open to other ideas. Thanks!